Yes. I have got the Tropics on my mind.  I'm already thinking about cold weather and winter and that white stuff on the ground.  And if you live in the Great Lakes Region like I do you already know that late January can be wicked cold.  In fact, the third week of January is often one of the coldest periods of the year.  The deep freeze of winter temperatures bare their teeth in January.  This is part of the genius of the timing of the 2014 Panama Canal Zone and Pipeline Road Birding with Greg Miller coordinated by Wildside Nature Tours.  The dates in 2014 are January 18-25.  Perfect.  And did I mention the birds?  OH.  MY.  GOSH.
Make your decision to avoid the deep freeze of winter now before the white stuff begins to fly!  There is still room on this trip.  Come celebrate a bunch of lifers with me and enjoy some toasty tropical weather!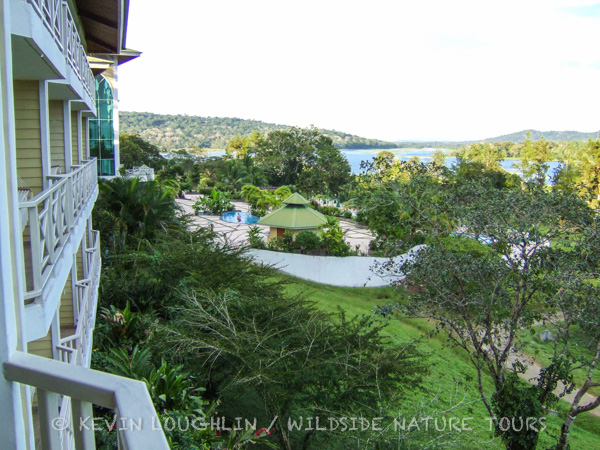 View from room balcony at Gamboa Lodge. Panama. Photo by Kevin Loughlin
There you have it–birds and animals that look just like what you have in your yard, right?  Haha.  People from around the world are flocking to see your gray squirrels or chipmunks?  What?  No monkeys, sloths, or anteaters in your backyard?  Yes.  I am kidding.  Panama looks like it is a pretty awesome place.  And yeah.  I am looking forward to spending the coldest week of the winter in a much warmer place.