Do you have a nemesis bird (or two)?  Did you ever wish for a list of species with "Best Bets" for location & timing?  Well.  Here it is–the long-awaited Species breakdown for the Impatient Birder.  The Top 10 Best Bets for over 900 species are listed in 6 PDF documents–they are split into 50-page segments.  These documents are free for download. (but they are fairly large)
Impatient Birders Guide to North America –  Species Top 10s –  part 1
Impatient Birders Guide to North America – Species Top 10s – part 2
Impatient Birders Guide to North America – Species Top 10s – part 3
Impatient Birders Guide to North America – Species Top 10s – part 4
Impatient Birders Guide to North America – Species Top 10s – part 5
Impatient Birders Guide to North America – Species Top 10s – part 6
Data was downloaded from eBird (http://ebird.org) for the Lower 48 States, all the Canadian Provinces, and Alaska. The time frame was for all years (1900-2012) and all months and weeks of the year. All data was rolled up at the State & Province level from eBird as of February 22, 2013. This data includes about 6 million checklists.
For "abundance" values, the eBird Frequency of Checklists was used. Note that this is actually just the percent of checklists on which a particular species was recorded. It ignores the actual count of the species per checklist. A checklist with 10,000 Ring-billed Gulls and 1 Iceland Gull will both be recorded as a 1 for both species. Ebird will count the 1 checklist for the Ring-billed Gulls and 1 checklist for the Iceland Gull. So for a smaller sample size one may have data that does not truly represent reality. But the larger the sample size, the closer to reality it becomes.
As a caveat, this data is provided for entertainment. Yes, this is my discaimer. Hopefully it will represent a clearer idea of the best places to find a species. But please use discretion. If something doesn't seem right, there is probably a reason for it. This report is completely unaltered. Data is reported as it is from eBird.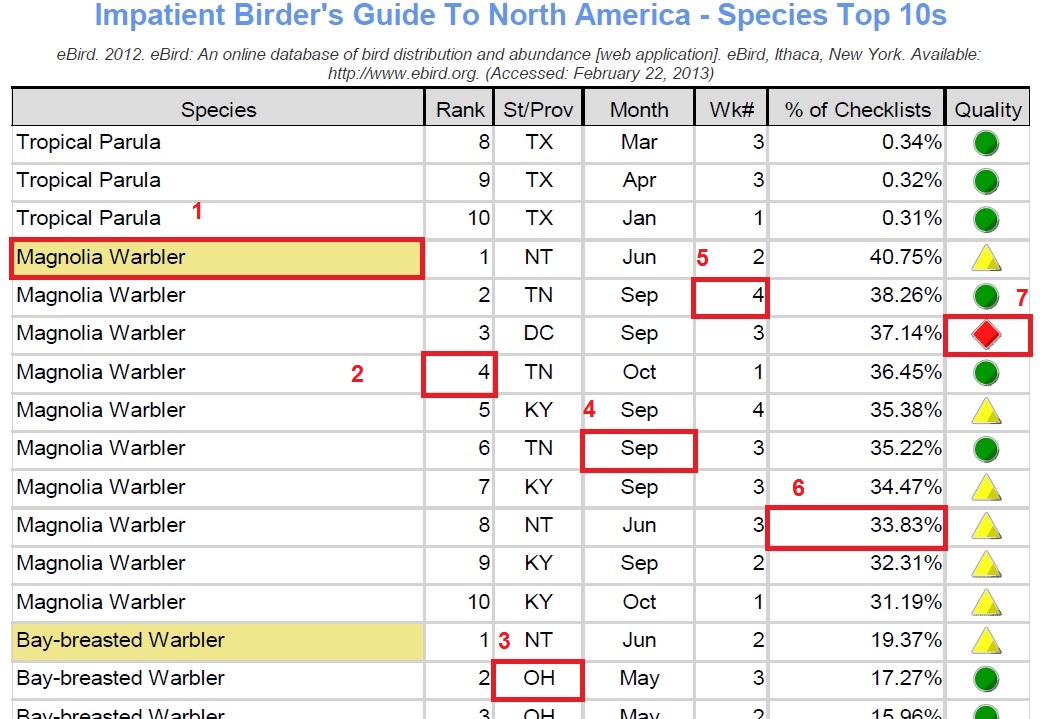 1. Species – The common name of the species from eBird, sorted in taxonomical order
2. Rank – a number between 1 and 10 with 1 showing the "best bet" to see the species according to the Frequency of Checklists value in the second to last column.
3. St/Prov – U.S. State or Canadian Province 2-character postal codes.
4. Month – the first three characters of the month
5. Wk# – a number between 1 and 4 representing the week of the month. This is eBird's week number. It uses the following calendar dates:
– the 1st through the 7th of the month
– the 8th through the 14th of the month
– the 15th through the 21st of the month
– the 22nd through the end of the month
6. % of Checklists – this is the same as eBird's Frequency of Checklists. It is the percent of checklists for a species by State/Province, Month, and Week Number. Here, the 33.83% means that about 1/3rd of the checklists submitted to eBird for Northwest Territories for the third week of June have one or more sightings of Magnolia Warbler.
7. Quality – relative reliability of the % of Checklists based on the total number of checklists submitted to eBird for a specific State/Province, Month, and Week. Here is the scale:
Green Circle – greater than 1,000 checklists submitted
Yellow triangle – 300 to 1,000 checklists submitted
Red diamond – less than 300 checklists submitted