I had a wonderfully relaxing stay in South Texas last month (a whole month ago already).  I didn't run around the whole Lower Rio Grande Valley the way I almost always do.  I didn't go West to Falcon Dam.  I didn't go out to the coast to South Padre Island or even Laguna Atascosa NWR.  Sometimes it is a good thing just to kick back and relax, explore new sites, enjoy the people and the food, and relish the experience that is South Texas.
A fabulous complement to this sort of travel in the Lower Rio Grande Valley?  How about centrally located Alamo, TX?  Of course I came to The Valley to meet all the 700+-birds-in-a-year birders.  But I also came to catch a breather from Ohio winter and what I like to call Green Jay Therapy.  I enjoy the LRGV for so many reasons.  And now I have a few more reasons to add: butterflies, dragonflies, new places to bird, and new places to eat.
This was my first ever stay at the Alamo Inn in Alamo, TX.  I normally do not stay at Inns/Suites/B&Bs because I'm almost always out birding early and miss the included breakfast.  Plus, many of these places are just too expensive for my liking.  The Alamo Inn is a unique place.  First, the prices are very reasonable.  Breakfast is fix-your-own on a small fee.  So if you skip breakfast, you don't pay.  Nice.  But if you want breakfast, there are a number of quick options available in the dining area.  No waiting at a restaurant.  A plus for a birder or someone who doesn't always have a relaxed schedule.  The fee for a meal is currently a fixed $5.  It's on an honor system, just like our sport of birding.
I stayed in the historic building on the second floor in the Pancho Villa Suite.  The wooden floors were a nice touch.  The room had a small fridge, a microwave, and its own large, filtered water dispenser.  Books and magazines adorn the living area making it feel a bit more like home.  I was most pleased to find out that there were many outlets in both the bedroom and living area even though the building is nearly 100 years old.  I had no problems at all with the air conditioning (I didn't have to try the heating even though it was "winter").  The bed was comfortable and the showers worked great.  It may not be everyone's cup-of-tea, but for me, this will be a place I know I can feel like it is a home base as opposed to another cookie cutter motel room.  Speaking of a home base, Alamo, TX is less than 10 miles away from my favorite National Wildlife Refuge, Santa Ana NWR.  It is about equal distance from the western valley (Falcon Dam) and the coast at South Padre Island.  It's a great place to hang your hat for a while and enjoy the LRGV delights.
The store is well equipped with birder friendly items and the library is a great place to read up on birds and wildlife of the LRGV.  This room is also a centrally located wifi hotspot.  Even my room had wifi.
Here was my "home" for my relaxing stay in the Lower Rio Grande Valley of Texas, the Pancho Villa Suite.
For those with needs for larger quarters, the apartment suites are a nice option.  There are even cottages for rent.
You don't have to go far to find good birds either.  Just outside the historic building, the grassy area in the commons next to the parking lot often had a group of mixed blackbirds containing Bronzed Cowbirds as well as the ubiquitous and noisy Great-tailed Grackles.  I even had a Cattle Egret show up a couple days (a reasonably good bird in the Valley).
The close proximity of the Alamo Inn to good food was a big plus for me.  There was good Mexican cuisine just across the street at El Dorado Restaurant.
And there is good BBQ within walking distance, too, at Willie's BBQ.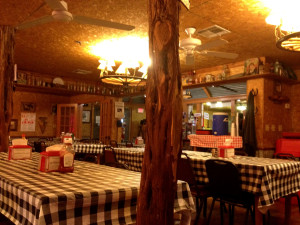 interior of Willies BBQ – Alamo TX – December 2012 photo by Greg Miller
And don't forget seafood!  The food was delicious at El Marisquero Restaurant.  A note of caution to those who only speak English–there is not much of it spoken here.  Haha.
The sumptuous food here may come as a surprise to those who look at from the street.  Not to worry.  The food here comes recommended by some guy who is pretty much ruled by his taste buds.  Try this!
And speaking of seafood, did I mention sushi?  Well, yes, you can find that, too, at Otto Sushi in Alamo, TX.  Don't forget to try this fried calamari.  Mmmm!
And so my pleasant experience in South Texas and the Alamo Inn has come to an end.  But stay tuned to this blog for…DUM-DUM-DAAAHHHH…FLORIDA!  I will soon be in sunny Florida to experience the Space Coast Birding and Wildlife Festival 2013.  I hope to see many of you there.  To those that cannot attend, well, I hope you'll enjoy the experience vicariously through this blog.